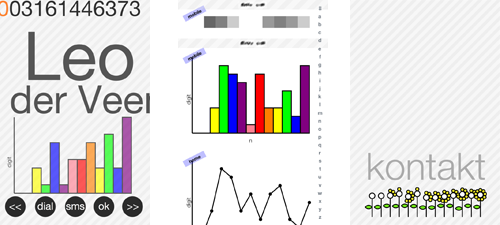 OK, so let's face it. We've got this financial crisis so all we see is market shares decreasing. Those aren't exactly the graphs you'd like to see.
Kontakt
makes a difference, it renders all of your contacts' phone numbers in several scientific (and less scientific) ways like graphs, total sum of individual digits, binary, braille or even in the number of leaves on a dandelion. Now that's phone number statistics.
Truly the best alternative to the built in Contacts app. Upon selecting a contact
Kontakt
will play it's number as if it was a melody by projecting each digit of the phone number on a harmonic scale (which can be set in the Settings app).
Instant dial and sms buttons are available to make this app even more useful.
Rotate your device to get an overview of all the available rendering methods or to render a random style for each phone number.